At the Head On Photo Festival launch on Friday night (10 Nov) we announced the much–anticipated winners of the Head On Photo Awards in the Portrait, Environmental, Landscape and Student categories. 
The competition was fierce this year – just ask our panel of judges who spent hours upon hours debating and deliberating which talented photographers will take out the top prizes. 
We couldn't be more pleased with the result. Your winners for 2023 are: 
HEAD ON PORTRAIT AWARDS
International runner-up: Delphine Blast with 'The retreat of the butterflies'
Delphine lived in the Dominican Republic in 2011. In 2021, she returned to lead a participatory project with 16 inmates in the country's only penitentiary centre for underage girls. Participants are encouraged to regain possession of their image and become actors in their lives in a place that deprives them of all freedom.
Together, they make masks, a central element of Dominican folklore, which protects their identity and embodies their physical and psychological confinement. They choose messages to transcribe onto the images, projecting themselves into the future.
Australian runner-up: Julian Kingma with 'MP Jan Wade'
Jan liked to control the room."You've got ten minutes."
Overall winner: David Cossini with 'Ugandan Ssebabi'
Set among the tough slums of Kyazanga, Uganda, Ssebabi is a photographic tribute to the world's greatest underdog. Godfrey Baguma, born with a rare and painful physical disability, was abandoned by his mother as a bringer of 'bad luck' and shunned by society.
Through a chance encounter, he reinvents himself as an entertainer in a travelling show. Now 57, he has beaten the odds. While most people with his condition die by 40, he has found love, success and bought a house — a testament to human resilience and positivity.
HEAD ON LANDSCAPE AWARDS
International runner-up: Francisco Negroni with 'The image of fear
Los Lagos Region, Chile. In 2015 and after more than 40 years of calm, the Calbuco volcano began a new and violent eruptive process.
Hundreds of people had to evacuate the area due to the ash fall. In the photograph, a gigantic fumarole is surrounded by thousands of electrical discharges (a phenomenon scientifically known as a dirty storm) which caused panic throughout the region and during the first night of eruption.
Australian runner-up: Barbara Brown with 'Shanty Town, Swakopmund, Namibia'
Aerial view describing life within a shanty town north of Swakopmund taken from aeroplane
Overall winner: Talia Greis with 'Underwater Garden'
A shallow, pond like, open air sinkhole with the most impressive range of water lilies. Found in the depths of the rainforest, Mexico.
HEAD ON ENVIRONMENTAL AWARDS
International runner-up: Annette LeMay Burke with 'Fauxliage – Airport approach, Palm Springs, CA'
This series documents the proliferation of disguised cell phone towers in the American West. By attempting to conceal an unsightly yet essential technology of the modern world, our landscapes are now sown with a quirky mosaic of masquerading palms, evergreens, flagpoles, crosses, and cacti. But the towers are simulacra. They are water towers that hold no water, windmills that provide no power, and trees that provide no oxygen, yet they all provide five bars of service. The towers pose the question: How much of an ersatz landscape and manufactured nature are we willing to accept in exchange for connectivity?
Australian runner-up: Adam Oswell with 'Portrait of extinction'
Field rangers from the Ugandan Wildlife Authority pose in front of over 12 tonnes of metal snares confiscated in just one year in Murchison Falls National Park. The snare crisis is devastating wildlife populations across the planet as they are a cheap and effective method of poaching wildlife for powerful and sophisticated criminal syndicates who often exploit impoverished communities to supply a booming global black market for wildlife.
Overall winner: Alain Schroeder with 'Saving orangutans 1'
Sibolangit, SOCP Quarantine Centre, North Sumatra, Indonesia. The SOCP team works together to prepare Brenda, an estimated 3-month-old female orangutan (she has no teeth yet), for surgery. They administer a sedative, shave her arm, and take her temperature while others hold her head or hand out of compassion.
This series documents Indonesia's orangutan's rescue, rehabilitation, and release. They are under threat from the ongoing depletion of the rainforest due to palm oil plantations, logging, mining, and hunting.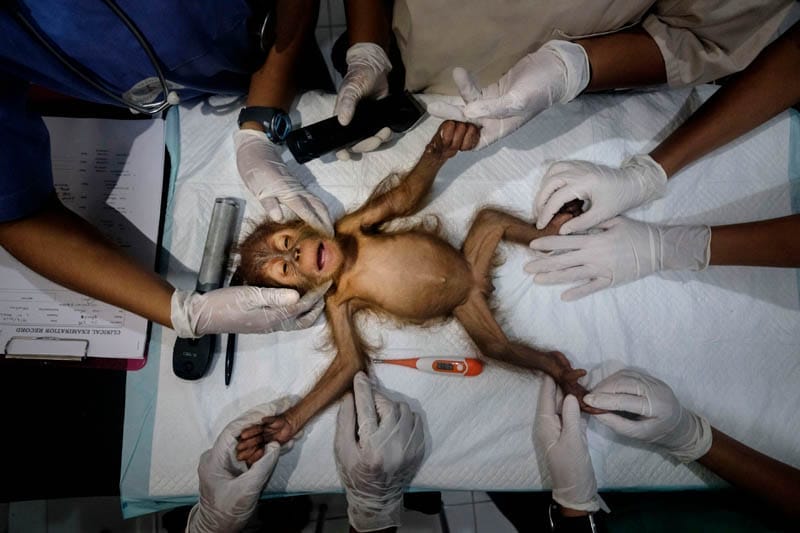 HEAD ON STUDENT AWARDS
Runner-up: Sienna Lawson-Coffa with 'Mirror'
Runner-up: Isobel Meyer with 'Siblings'
Two siblings per dog, country living. Capturing the littered light through the leaves above.
Overall winner: Lucia St Leon with 'Paper constructs'
I experiment with light and natural fragments of the earth, captured and reframed through dioramas to create an alluring glimpse of the connection between Earthy forms and their inhabitants. Encouraging appreciation for our world.
Thank you to our wonderful judges: Aline Smithson, Bill Shapiro, Nicky Catley, Jesse Marlow, Gwen Lee, Natan Dvir, Krishna Sheth, James Whitlow Delano, Jessica Hromas, Moshe Rosenzveig OAM, Jasmine Robertson, and Laura Moore.
Head On Editions
Elevate your home with timeless moments captured in exquisite detail – our photographic prints, crafted with precision and passion, turn every glance into a journey through artistry.